It's Friday night, in August, and the space is filled with groups of year 7, 8 and 9 students huddled around tables in groups of 3 or 4, busily working out the most efficient algorithm for sorting a set of cards.  Not everyone has arrived yet, although they were expected a couple of hours ago.  Unfortunately, there was an incident with the bus they were travelling on and they are running late, after being stuck on the side of the road for 3 hours.  Welcome to the North West Maths Camp, an event hosted by and at Karratha Senior High School with students, and their accompanying teachers, camping out over two nights and completing and competing in maths challenges.  And they're having fun.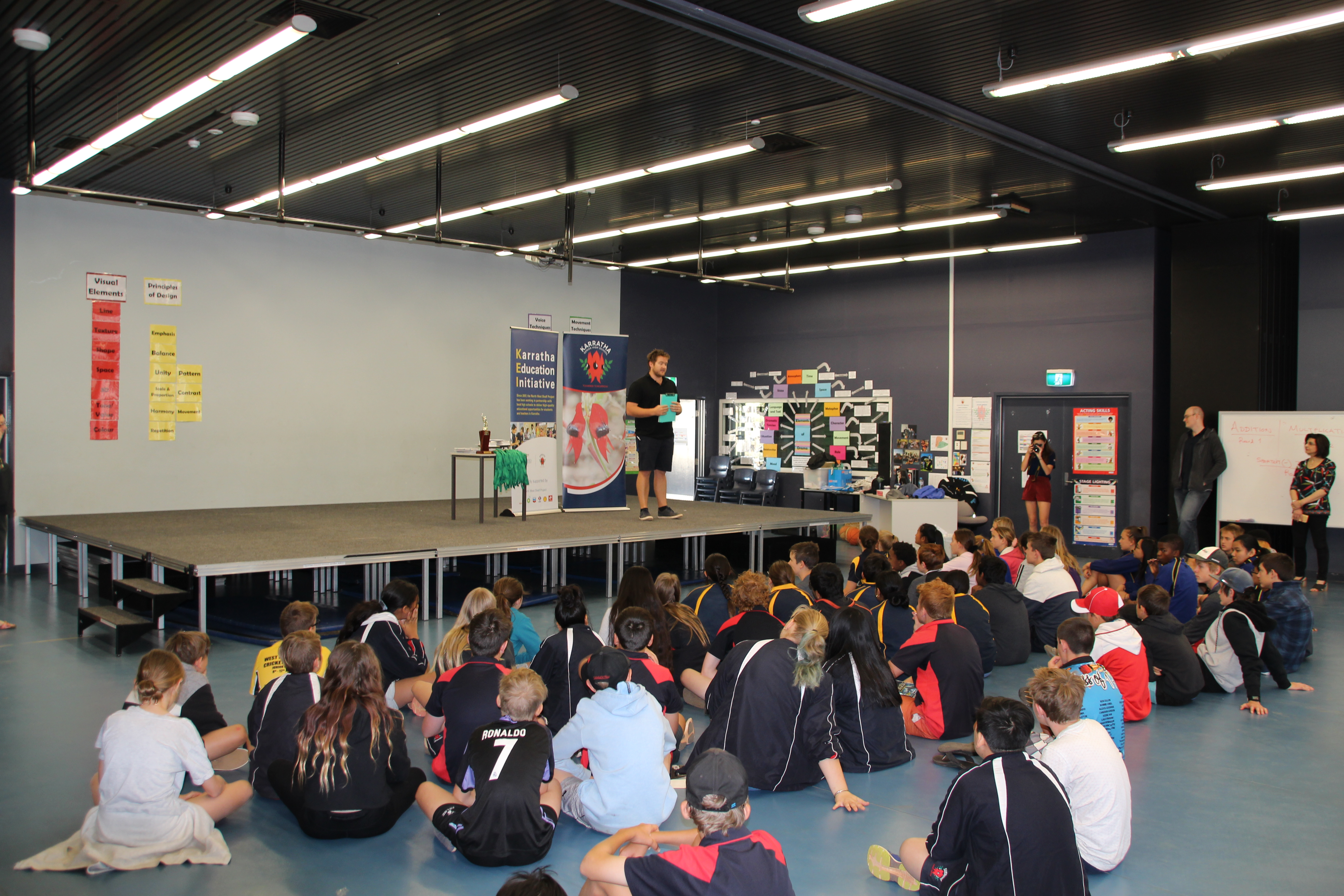 Not that unusual, you may say; students attended maths camps all over Australia, and you would be right.  What is special about this camp is the distance the students and their teachers travel to participate. The group that was running late was from Newman Senior High School (NSHS), the small Pilbara mining town, 1,186km north of Perth and 610km by road from Karratha.  A noise started in the bus and became more and more insistent, so the decision was made to pull over to be on the safe side.  They hadn't arrived in Karratha yet and they still had to get home again in time for school on Monday.  The driver called for roadside assist.  SLIGHT PROBLEM; the call center is in Melbourne, over 3000 km away.  Do you know how difficult it is to explain that you are sitting on the side of the road, somewhere between Port Hedland and Whim Creek, with something wrong with the vehicle but you're not sure what, to someone on the other side of the country, who probably has no idea of where Port Hedland is let alone Whim Creek?
The other schools present at the maths camp, beside the host Karratha Senior High School (KSHS), were Exmouth District High School (EDHS), 550km to the south and Hedland Senior High School (HSHS), a mere 230km to the north. Everyone brings their swags and camps out in classroom on Friday and Saturday nights. I will be honest and admit I didn't; I slept in a proper bed at a local motel. Fortunately, the NSHS contingent arrived safely, hungry, but no worse for the delay, before bedtime.  When I arrived back at KSHS, at 8 am, to set out the first activity for the day, an orienteering activity, bleary-eyed teachers were shepherding students off to breakfast, or organizing their sleep rooms. Bleary-eyed teachers, who had been awake half the night, telling students to go to sleep but of course many students were just too excited to sleep.  How come they're not bleary-eyed?
After the orienteering activity, the students went chocolate-chip mining, which is always fun.  Watching groups try and work out the best way to extract as many chocolate nuggets as possible while only using their mining tools and staying within their mining claims, is always interesting; some don't care about damage and destruction, just get the 'gold,' while others are much neater.  The second and third round made it even more difficult for the smash and grab groups when they were rewarded for least amount of damage to their mining claim; mind you there was a lot of 'Quick, sweep the crumbs back into the circle,' going on. (If you're interested in trying chocolate chip mining with your class, just do a Google search as there are several resources available on line.)
After lunch, the out-of-towners all got a chance to visit the local shopping mall. May not sound very exciting to you but when the population of your community is only 2500 (Exmouth) or 4600 (Newman), it's pretty thrilling. The Karratha kids got to have some downtime, which, in today's 'keep 'em busy' world, was probably enjoyed just as much.
The maths activities continued later in the afternoon and the evening with different teachers running them. Teachers and leadership from KSHS dropped in throughout the weekend and parents and staff were present for the presentation at 9 o'clock on Sunday morning. HSHS's team LEAP won with the greatest number of points overall, but HSHS Team Standish and EDHS team The Finger Lickin' Goons were only 2 and 3 points respectively behind. Jess Wolf from EDHS was awarded the Most Valuable Player prize for the weekend.
Then the journeys home began.  NSHS was planning to home by 5 pm, hopefully with no delaying incidents along the way.